PlayStation 4 has just celebrated its second birthday but whether that lovely parallelogram has been snug under your TV all that time or if you've just got one, there's always plenty to learn.
A slew of software updates since its release means Sony's console now has a stack of features hidden up its sleeve that make it unrivalled when it comes to a living room gaming setup.
Whether it's making the most of sharing and tweeting out your video highlights, or discovering the PlayStation app, we've gathered 32 must-know tips to make the most of your PS4

1. How to set up the PlayStation 4
The PlayStation 4 is a feature-packed console, which means that the setting up process is a bit more complicated than previous consoles.
To make sure that setting up your new PlayStation 4 is as simple as possible, check out our video below showing you the best way to get the PS4 up and running. 
2. Make headphones wireless
Well, wireless when it comes to stretching between the sofa and the screen that is. A 3.5mm jack handily positioned on the Dual Shock 4 means you can plug your own headphones or headset into the controller.
The default setting is for chat audio only but this can be easily tweaked by holding down the PS button in game and selecting 'adjust devices' on the resulting menu. Select the 'output to headphones' option and choose 'all audio'.
Voila, no more anti-social TV noise, you're surrounded by the ambient noise of Fallout 4's Commonwealth and, if you have an inline mic you can use this for in game chat or even commentary recording for Twitch.
3. Use your phone as a keyboard

Previously it was a serious slog to enter messages using the analogue sticks on PS3, with only an ugly wireless keypad peripheral available to ease the pain.
Thankfully, PS4 delivers a choice of interfaces and, as well as a helpful touchpad input, allows you to use the PlayStation App as a second screen for text entry. With your phone and PS4 on the same Wi-Fi network you can pair them via the PlayStation App connection settings on the PS4.
Then, with both logged in to the same PSN ID, select the second screen option, choose the keyboard icon at the top left and, as if by magic, PlayStation messaging becomes fun again. Thanks to the latest update, there's even mascot themed stickers in there for when words just aren't enough. Yep, say it with Sack Boy.
4. Pre-load your games
Why wait? We live in the 21st century don't we? All pre-orders available on the PlayStation Store now come with the ability to pre-load your digital games.
This means files are available to download several days before the release date and you won't be left watching a loading bar while all your stone age/physical release-buying friends leave you in the dust when the clocks hit midnight.
Make sure your console is set up for automatic downloads while in rest mode and your PS4 will do all the work for you and start downloading as soon as files become available. It's worth keeping in mind too that there needs to be enough space on the PS4 HDD so check the file size to make sure the game will be there when you need it..
5. Start remote playing
If the last entry wasn't enough of a reason to stay in bed then the remote play features of PS4 should seal the deal. Whether someone else wants the TV or you just fancy playing 8th gen games in the bath, the capability to stream to the PlayStation Vita is a slick process that just requires you to have both devices signed into the same PSN ID.
You can connect directly to the PS4 or via your wireless network if you are too far away from the console itself. Make sure that 'enable turning on PS4 from network' is selected in your power save settings and you'll be able to turn on the PS4 remotely from the Vita. Sony might not be focussing on as many handheld games these days but the excellent remote play control set ups for Fallout 4 and Destiny are reassuring additions that suggest all is not lost.
6. Use your Vita as an extra DualShock
If you've not shelled out for an additional controller yet and fancy some two player action on PS4 then you'll be happy to hear that your trusty Vita doubles up as an additional DualShock.
Set up remote play as usual with the Vita. This will automatically turn off any connected controller and allow the handheld to control the on screen action. When you want a friend to join in, have them press the PS button on the DualShock and log in as another user or guest and you'll have co-op Lego Marvel on the go in no time.
Not got a Vita? Time for one of the 20th Anniversary DualShocks or even the fetching Darth Vader version to celebrate the release of Star Wars : battelfront.
7. Record your skills
PS4, whether you tell it to or not, always diligently records the last 15 minutes of your gameplay just in case you perform some incredible feat and fancy showing it to the world.
To hoard a period of gaming history after your 'I can't believe I just did that' moment all you need to do is hit the share button and opt to save the video to your captures folder.
If you actively want to record something coming up, press the share button twice to start recording, then press it once when you want to end the clip.
Again, this can only be up to 15 minutes in length. PS4 also allows you to use an external capture device for longer recordings but in order to record gameplay you'll have to disable HDCP. Go to 'settings' and then 'system' where there is an 'enable HDCP' box to uncheck.
8. Take easy screenshots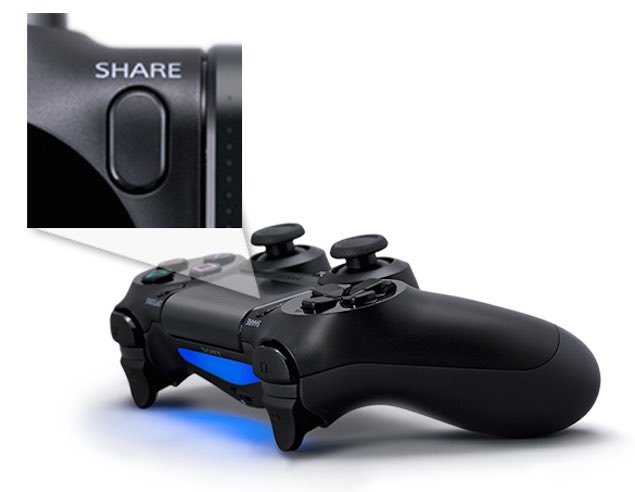 The default setup for the share button means that a quick press will bring up the share menu and a longer press is needed to take a screenshot.
However, an 'easy screenshots' mode is available that allows you to reverse the settings and means you'll never have to leave the action if you want to take a quick snap of the scenery/carnage. This setting can be found within the options menu of the share screen.
Plus, thanks to the 3.0 update, you can now choose whether you save screens as a .jpg or .png file for even better image quality. This can also be found in the share settings.
9. Start sharing

Sharing is caring and everyone definitely wants to see your gaming prowess. Screenshots can be uploaded to both Facebook and Twitter with a press of the share button, and video capture can go to both social networks and YouTube.
While Facebook and YouTube videos can be up to that 15 minute recording length, Twitter only allows you 10 precious seconds of footage. Once you've saved your video clip, head into your captures folder and hit the 'options' button and select trim.
Here you can edit down to those perfect ten seconds. And don't worry, there's the option to save it as a separate clip so you won't lose the original video. Also, if you want to share to YouTube, you can link your PSN account by adding your account in the 'link with other services' option in your PlayStation network settings.
10. Get livestreaming
Twitch, Ustream and YouTube Live are all supported by PS4 so it's ridiculously easy to get your gameplay online. A press of the share button in-game will give you the option to stream to one of the three platforms and a helpful settings screen allows you to add footage and audio from the PlayStation Camera, display comments from viewers and change the quality of the upload depending on your network speeds.
Plus, it's not something Sony appears to have told anyone but some games even allow Twitch viewers to have a say in the action. It's not quite Twitch plays Dark Souls (thankfully) but commenters can interact with the 2013 Tomb Raider and decided on Lara's fate when she is injured and indie horror Daylight can be made scarier by user comments. Maybe it's for the best that everyone's forgotten.
11. Prepare for Project Morpheus
It's almost here. Sony's Oculus Rift-rivalling virtual reality headset has changed its name from the futuristic Project Morpheus to the simpler PlayStation VR and it's coming in Q1 2016.
The Daft Punk style headset has an HD 1920x1080 OLED display, a 120hz refresh rate and 3D audio to fully get your head in the game. Plus, if you've still got your Move wands, hold onto them as those spongy colourful balls were invented with VR in mind and built for tracking.
Sony has revealed that over 200 developers are currently working on VR projects and more than 50 titles are confirmed for launch. From horror coaster Until Dawn: Rush Of Blood to Crytek's Robinson: The Journey, there's going to be a lot to experience when we finally get our eyes on the potential future of gaming.
12. Use the Share Factory
While you can of course upload your footage as it is, the Share Factory is a free native editing app to give you more personalisation for your videos.
It's especially perfect if you don't have an editing PC but want to get creative, as this is where you can add commentary, soundtracks and effects to your footage. You can add a unique PS4 intro and outro to each video you post and it delivers a user friendly interface for editing and splicing clips together.
While there are your usual transitions included in the app, the PlayStation Store has a collection of free game themes that include custom transitions, stickers to include and unique intro and outros. Want the original PSOne intro music for your work or some Destiny-themed art and clips? Get downloading. Plus, videos can be uploaded directly to Facebook or YouTube without even leaving the app.
13. Be social and add groups
Hooking up your PS4 to Facebook is a great way of importing a profile photo and ensuring easy sharing with friends without having to make much of an effort.
It also means your real name can now be revealed to the world if you accept specific requests from your PSN friends. Plus, a Facebook settings page allows you to make sure that you aren't spamming friends with every single trophy pop and you can easily personalise who sees what activity.
A new feature also means you can now gather your PSN friends into groups. Got a raiding crew for Destiny? Add them all to one group and you'll know where everyone is and can easily party chat with the group. You can even personalise an avatar for the team which can be easily accessed in your friends section.
14. Charge while you sleep
While in rest mode – indicated by sleepy orange lighting – the PS4 is happy to download updates, games and, usefully, charge those ailing DualShocks. Make sure that 'supply power from USB ports' is selected within your power savings settings and you shouldn't find yourself running out of juice after an hour's game time.
Also worth keeping in mind is the fact that the DualShock uses a micro USB socket. In a revolutionary life hack, this means compatible USB phone chargers will let you charge a controller on the fly without having to stretch a cable from the console. No more perching on the edge of the sofa with a taut cable or, even worse, sitting on the floor.